How is everybody doing? It seems most members are heading into some transitions and entering new stages of their lives. How exciting! Now I know I don't sound much like Ace, nor looking anything like him, but I'm stopping in the newsroom while he's on a Game Grumps break so Raven is reporting this time. Hi everyone.
Now on to business. We've had quite an eventful summer if you think about it. Plenty of new role plays and quite a few new members, huzzah!
Now behold!
Kingdom Hearts - the roleplay: Dark shadowy creatures called Heartless are ordered by the Nobodies to shroud every world into darkness. Only the keyblade wielders can work together to save each and every land from destruction.
Ouran High School Host Club: Ouran High School is a prosperous school of a bunch of rich kids with powerful parents. The campus is famous for their Host Club, which spends its time with the sole purpose of making events for the student body to enjoy, and the club members
These two seem to be our most popular right now. You don't have to join, we have plenty of people in them, but they sure are worth reading. We do have some smaller ones that might need a little tender loving care. At least they deserve to be mentioned:
One Nation Under Tyranny: A layered story that originated from the chatroom and ended up traveling back in time to prevent a disaster. Historically takes place in the Middle Ages.
The Last Of Us -  the role play: Follow Joel and Ellie as they venture through an Infected world to deliver a possible cure to humanity in this post-apocalyptic story.
The Viral Boundary:  A group of friends trapped in the realm of video games. Currently accepting applicants and ideas for which games to travel.
In the real world, it's sadly coming toward the end of summer and before any of us knows it, we'll all be back behind desks in classrooms and snoring boring lectures
except maybe Cat and I
Well don't fret fellow role players of mine. Hitting the books comes with some good points too instead of just annoying homework: you might go through a typical day and get a most inspiring idea for a new role play!!
And if your still gloomy or groaning, here's a cute picture courtesy of our own Miss Seek to get you guys smiling again!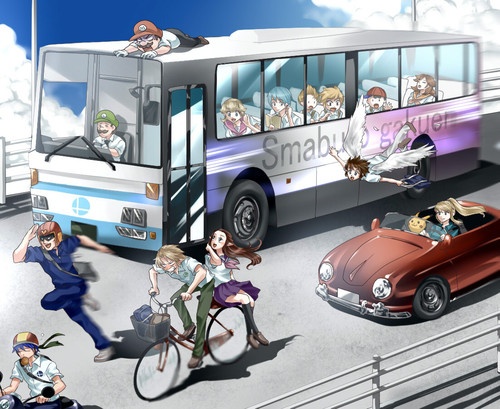 And for fun, I have a few videos to share. Why? Because the one's a gorgeous song that popped in my head and the others is just cool clips from the movie Spriit: Stallion of the Cimmaron. Enoy!
So yea, that's what's up. If I missed anything we have to wait for the main newscastor
Ace
to come back into the room. Until next time everyone, adíos!