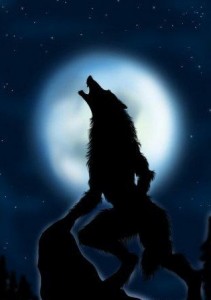 Here envisions a story not meant to be taken lightly, even if the intentions are for amusement, never forget what crawls through the shadows at night, for they could mean an unpleasant change in your fate.
Welcome to the lovely town of Absalm in the Naskepow province, a village set on the edge of the woods, quiet and peaceful. At least it would be if it weren't for a strange series of attacks claimed to be caused by the mythical forces known as werewolves. Every night or so a new victim is found, usually as mangled up in a pile of flesh as the previous. The village, while not panicking yet, are concerned enough they want to remove the issue from the source. However, the werewolves appear human during the day, most likely even living within the village itself. How can they ever be found?
Absalm is essentially a colonial village. They have some modern concepts, like bathrooms, but it is still a bit of limited technology. Otherwise they could just use DNA or something to track down the hounds. Think Salem, just with a little bit of magic and werewolves instead of witches. Except that one witch. S/he isn't a real nuisance though, just a pest.
There is/can be a cross of cultures in for characters, like mixing western and eastern styled characters, or bringing in more fantasy themed. Just don't go over board and stick with the basic time period. So no hoodies, robotics, lazers, aliens or anything that screams what you've grown up around.
Now, players, pay heed to which token you choose. You could always just be a villager, waiting to see if you're the next midnight snack, but what fun would that be? Wouldn't you like a chance to have a greater role in this series of unfortunate events? Here are some special roles that might be of interest for you. Feel free to make your own role but it must be accepted by the Head Mistress.
Code:

Character
Name:
Age:
Gender:
Side*:
Role*:
Occupation*:
Personality:
Background:
Other:
*There are two teams (sides), the werewolves and the villagers. This will be so we can keep track of whose involved. The role slot is if you wish to have something special to do, something else to keep track of based off of the party game. Occupation is the less important detail that's actually the most required to put: While your occupation could very well be the special role you have; if you're say a werewolf, you still need a day job while you're human.
Also, feel free to make second characters/ extra NPCs. I have some character pics as backup for just random npcs. We don't have to use
every
role listed, I'll just whine if a few aren't. But the extra characters, they could be inspired by the roles not yet used, or doubling up or made just so we take longer than 3 weeks to play. New
victims
residents can always move in...
* Team Werewolf *
Werewolf - duh. You are the prime villain. Well the hero of your story. There needs to be at least 2 werewolves. They are a pack usually. Show your human form in the sheet. We know at night you are in the form of monsters. We need to see your daylight mask, so no puppy ears. Also, RPers or those being werewolves choose if they turn werewolf from A) every night B) nights of the full moon or C) at will (though usually just at night)
Minion - You are actually a regular human but you're in league with the werewolves. You like seeing the village become a place of terror and would gladly offer your life if it meant the werewolves surviving. Though if it can be helped, you'd rather stay around and watch the show.
Alpha Wolf - leader of the wolves. The pack tends to follow your command, even the unruly ones. You have the power to transform others into werewolves and the wisdom to know when to do so. Used when there is only 1 werewolf in the beginning or we feel like prolonging stuff.
Mystic Wolf - the enchantress on the werewolf side. Your powers are not that strong as the Seer's due to the werewolf blood, but your powers do help your pack.
* Team Villager *
Villager - There are many of you, so you have numbers on your side against these fearsome beasts. However that also means there's a harder chance of figuring out whose the villain among you.
When in doubt, be a villager.
You can always have fun tricking others, or just hope you survive to see the next sunrise.
Seer - a fortune teller if you will hoping to use her powers to aid the village. When enough of your power is gathered, you can sense upcoming misfortunes. Upon finding the right spell, you just might be able to find out who the enemies are.
Mayor - leader of the village. You just get a stronger say when choosing lynching and more political sway over the people when in high moral.
Masons (2+) - You know who your brothers are. You live together in the masonry building performing ceremonies. You are considered a truthful bunch, unless you seem to have an increase in headcount for members at least.
Hunter - A normal hunter, or one whose looking forward to some wolf pelts. If you're attacked though, someone else is immediately going down with you. We can double up easily on this one.
Doctor - Help save a poor soul, if you arrive in time that is. Also doesn't help if you're out of medical supplies, which seem to be happening more often recently. Still, a powerful character all the same.
Robber - just what you think you are. but the question is, are you going to try to find a way to steal more than just trinkets? maybe even ones own identity?
Troublemaker - oh what fun do you have. Spreading gossip around town. You are trying to make things difficult for everyone just because you want to.
Drunk - You poor soul. No idea what's going around you. You're trying to do your best for the village, even with your alcohol suppressed depression, but you just aren't sure where you've been at night or who you exactly talk to. Who knows, you could be the secret to the village's survival or just might be doing the wolves dirty work.
Insomniac - Interesting role here. No specialty per say but you don't sleep well at night. Not at all. You're always tired sure, but hey, you'll have a heads up being awake if someone tries to attack you. Course what could you be doing if you left your room during the night...
* Team Other *
There are a few cases of others who are on different sides from any others. Most tend to lean toward one side of the fence or the other, but a few are solely a different team altogether.
Lovers - whomever these are, Cupid decides remember, they care not for the troubles of others and solely want to live happily as a couple.
Paranormal Investigator - a villager searching to end this issue until he finds out the truth too quickly. Your goals are shifty, depending on what you unravel you will change sides, but start initially in the Village slot. A fun role for sure.
Tanner - a bit of a downer but one who hates his job so much he'll pretend to be a werewolf enough for the villagers to want him dead as well. He dies, neither the village nor wolves win.
Lone wolf - a werewolf yes but is on an agenda on his own. He cares not for his fellow lupine, as much as he lets them believe. His long term goal is to get them singled out and killed so that he may reign over the region.
Troublemaker - oh what fun do you have. This role is a villager but can also come down here for you could do simple stuff like gossip but if you're adventurous you could even try to stop the village raids or wolf hunts, making neither side get accomplished.
Witch - a villager for the most part, and you're not bad or mean per say. However, you like spreading misfortune. Spell casting amuses you. Of course so does observing the scene play before you. At times can accomplish what the doctor or Seer can't, but for a price.
Other - I'm sure the writers could figure out another third party member if they were so willing.
Now remember dear residents of Absalm, you are trying not to lose this game. The stakes are high. Feel free to lie and connive your way to your next breath of air. This is a test of wit, and trickery can be your friend... or it may just cost you your last chance at survival...
*I think that's everything. I'm thinking of Seer/witch fyi. have fun peeps.